Women's Dive Day is coming, have you given it any thought?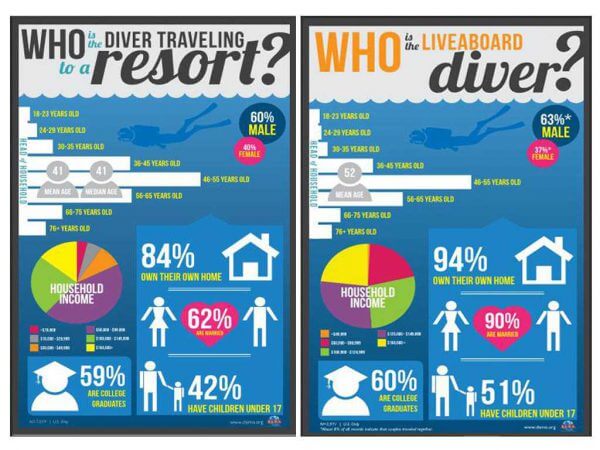 Ladies it's Women's Dive Day, are you happy accounting for only 36% of divers? That's right; when it comes to diving it's still a man's world! The 36% figure mentioned above, is only a PADI statistic. An analysis by DEMA using Anysite, found that women account for only 35% of new open water certifications, but only 23% of continuing education certifications. Were you aware that so few women are joining our ranks? That is so sad!
Fuel for Thought
Not only do men get more certifications, those lucky guys (said in jealousy but warmly) go on more dive holidays to exotic destinations. This recent study by DEMA, using data analyzed by Pitney Bowes AnySite Marketing Information System, shows that 60% of all dive resort customers, and 63% of all dive liveaboard clientele are men. Ladies, I ask you, why should they have all the fun?
Fuel for Hope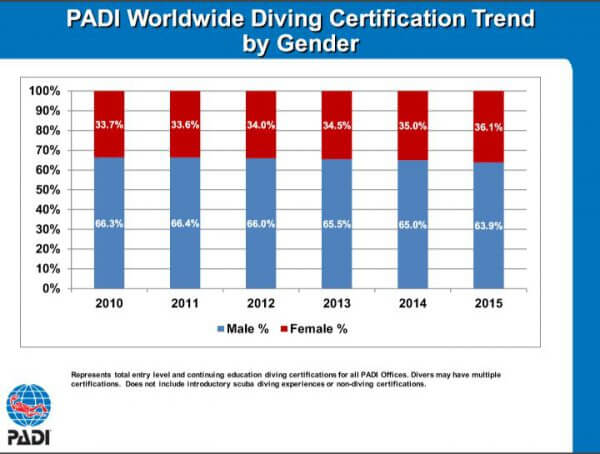 However, there is good news! According to PADI statistics, the trend is slowly changing, and more women are getting certified. Female certifications are up 7.16% since 2011. For men, the trend has sadly gone in the other direction, with a 3.62% reduction in male certifications over the same period. We think that this is, in part, due to PADI Women's Dive Day. As a woman and a PADI Instructor, it is exciting to see women's PADI certifications on the rise! Truthfully though, as a lover of the underwater world, I'm happy to see more women and men enjoying my passion.
Fuel Your Dive Habit – Adelaar Cruises Wants to Help
In celebration of PADI Women's Dive Day on July 15, 2017, Adelaar Cruises is going to fuel your dive habit. For our cruise July 10-20, which includes PADI Women's Diving Day, all of our guests will receive free Nitrox, all ladies will have their fuel surcharge waived and will be given a free Adelaar Cruises T-shirt to celebrate women divers.
Fuel the Fire
Call it a bet, call it a dare, call it what you will, but get the women in your life into the water! Start by giving them a snorkeling course for Christmas, or a scuba diver course for their birthday. If you live near the water take them snorkeling and show them the fish; just get them in the water. Better yet, set up a Discover Scuba Experience for your best gal pal on Women's Dive Day this July 15th and go with her just for fun. If the females in your life are up for it, encourage them to take a Discover Scuba Experience on your next tropical vacation.
As we always say to our guests when showing them amazing underwater creatures, "share the love." Remember how excited you were when you first discovered the miracles of the underwater world? Make memories with your female friends and family and they'll want to share in good times. Who knows, with a little encouragement maybe an overwhelming urge to get certified will hit them. The next thing you know, you are planning a dive holiday together!
Fuel the Local Dive Economy
It is easier for locals to understand the courses, as the material is available in Indonesian. This creates a new job market for our local dive professionals. However, much like the rest of the world, the majority of local Indonesian dive industry professionals are men. Team Adelaar hopes to change that by having a career day for lady divers aboard the ADELAAR. We understand that women can play many roles in the dive industry. We want to pass these opportunities on, and share our knowledge.
Owner/operator (resort, dive center, liveaboard, dive agency…etc)
Cruise Director
PADI Professional
Support Crew (tender drivers, room stewards…etc)
Reservations Staff (Agent & FIT communications)
Marketing & Advertising for dive holidays
Manufacturer (Dive T-shirts, jewelry, wetsuits…etc)
Support Staff (licensing, medical plans for crew…etc)
Holiday Logistics (meet & greet, transfers, pre/post hotel…etc)
We'd love to do this near PADI Women's Dive Day, but it's peak season in Bali, and all the dive centers are taking guests to dive with mantas and molas. So we'll have to do it at a later date. Once we get the date pinned down, we'll coordinate with the local dive centers to get as many women involved as possible. If you have any suggestions for fields in the dive industry for woman divers, please share your thoughts.
Fuel Your Local Dive Economy
For more information about a PADI Women's Dive Day event near you, or to get ideas for your own event click here.
Come join us on Adelaar this July 10th and make PADI Women's Dive Day 2017 one you'll never forget.
Learn about a passionate community of women scuba divers through this article : Girls Power in Scuba Diving.