Sunscreens provide essential protection from the burning sun. However, these cosmetics have been found to destroy reefs around the world due to their chemical composition. The good news is that  alternatives are now available. We can keep protecting ourselves in a healthier fashion, and the coral at the same time thanks to reef-friendly sunscreens.
Protecting yourself AND the Ocean
99,9% of the population love a sunny holiday. Even if one prefers skiing the best peaks of the world, the sun is always welcome. When it comes to a tropical holiday, having blue skies and sun rays is expected. And as we all know, one can get burnt severely, whether the weather is sunny or cloudy. Even the brightest and most careful people have become "human lobsters" at least once in their lifetime. Dermatologists have been warning us for decades against the negative effects of the UV we so desperately seek on a tropical holiday. We all know to stay in protected when the sun is at its highest, and to apply sunscreen when we are exposed. It only makes sense for us to protect our skin. But at what cost? Did you know that sunscreen has been destroying one of our most precious and diverse ecosystem.
What is happening?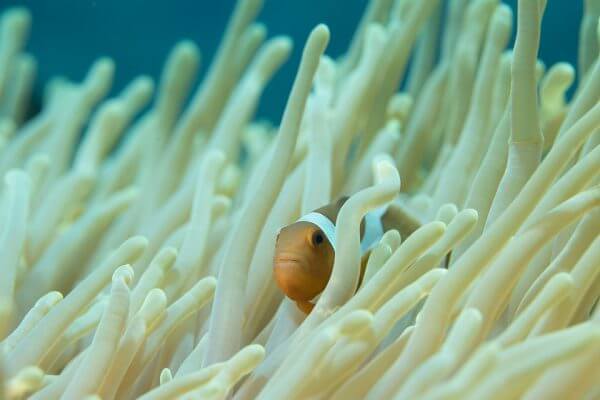 Oxybenzone is a chemical found in most sunscreens and has been found to be harmful to our beloved coral reefs. About 5000 tons of sunscreen enter the water in reef areas around the world annually. Popular destinations are being affected the most due to the plethora of visitors per year. However, this is a global issue. Wherever humans go, there is an impact. Even in small doses, oxybenzone contributes to bleaching and disrupts reproduction and growth. The weakened reefs, which are already under pressure from climate change, pollution and overfishing to name only a few, are struggling to recover.
What to do?
Nowadays, more and more ocean lovers are aware and have started buying eco-friendly sunscreens. The fact that travelers choose to minimize their impact by purchasing this type of protection is great for the reefs! Although, one ought to do some research before buying a product labeled as "eco-friendly" or "reef-friendly". It is often deceivingly used as a marketing tool to increase sales. One must read the label carefully to make sure that the product is truly doing what it claims. I therefore did some research so that you don't have to, and compiled a non-exhaustive list of sunscreens, which are reef friendly, cruelty free and, for the most part, vegan. Three good deeds at once! Some of these are also eco-certified meaning that they mainly use organic ingredients and must come in recyclable packages. An additional bonus to all this is that you would be putting safer products on your skin!
Here's our top 10!
A bonus one…
The "bonus" reef-friendly sunscreen product from Stream2Sea is not pictured on the list above because they test on coral and fish. However, we like their transparency policy and the fact that it is produced in the USA by a scuba diver who made this potentially "controversial" choice out of love for the ocean.
How to apply the sunscreens?
As you can see, even with this non-exhaustive list, there is a wide array of sunscreens available on every continent. Most of them are even available internationally online via their website or third party resellers like Amazon or health websites. So it should be easy to find one close to you or online in preparation for the holidays. It is very difficult to find the perfect product. Quite a few of the above still contain ingredients which can be harmful to the reefs. Bees wax (for example), which we would recommend avoiding. I hope that this helped you understanding the importance of choosing the best possible sunscreen for the reef and yourself.
If you already own one and are not sure if it is safe to use, check our additional tips:
Reef safe sunscreens tend to be thicker as they are mineral sunscreens so don't use too much and rub well as demonstrated here by the founder of Stream2Sea:
Spray-on sunscreen gets all over the place and land on the sand, which later washes in the ocean, consider rub on products instead
Consumers should take extra care not to use a sunscreen advertising "nano" zinc oxide, as this can be toxic to your body. It is best if the sunscreen sticks to your skin as a protective layer to do its job in protecting you from the sun rather than being absorbed
Try getting the simplest formulas as plant-based oils added to sunscreens, like eucalyptus and lavender, can be dangerous to invertebrates
Sunscreens containing bees wax can be harmful due to pesticides, which remain through the process of making any sunscreen containing this ingredient
The most efficient way to protect yourself and the reef is to wear rash guards or surf leggings, when surfing, snorkeling, or building sand castles
If you'd like to read more about this subject, please consult any or all of the following articles: Time Magazine | The Guardian | a UMass blog.
Written by Laura, lover of all things water, passionate diver and ocean advocate