Often as a diver-adventurer you would like to be able to communicate with the dear Indonesian crew members, who make your stay unforgettable. What is better than knowing a few words in Indonesian, to crack a joke on the dive deck or in the galley?
Let's learn the basics you will need, on a perfect shiny day on your favorite liveaboard:
Good morning!
Good afternoon!
Good evening!
Sleep well!
Indonesian dictionary
Did you have a good sleep?
Ready for diving?
Clean your mask
Toothpaste
Don't forget your camera
Let's go diving!
Open your tank!
Fins on!
One, two, three, go!
A lot of fish
Big shark
Dolphins!
Whale!
Turtle!
Good visibility!
Amazing!
Extraordinary
The water was warm.
Diving again!
Strong current
Relax!
Breathe!
Enjoy!
Oh my goodness!
Good food
Enjoy your food!
Oh it's spicy!
Cold drink
Oh my goodness!
The Sun is warm
Let's rest first.
Who said that?
This is my dream coffee
Let's raise the sails!
Sweet cookies
Cheers!
Very cold beer
Sunset
Let's dance!
If you master this list of words and expressions from our tiny Indonesian dictionary, we guarantee you are going to be the star of the trip!
Selamat belajar!
Your Adelaar Team
Read all about how to become an eco dive traveler here
Selamat pagi!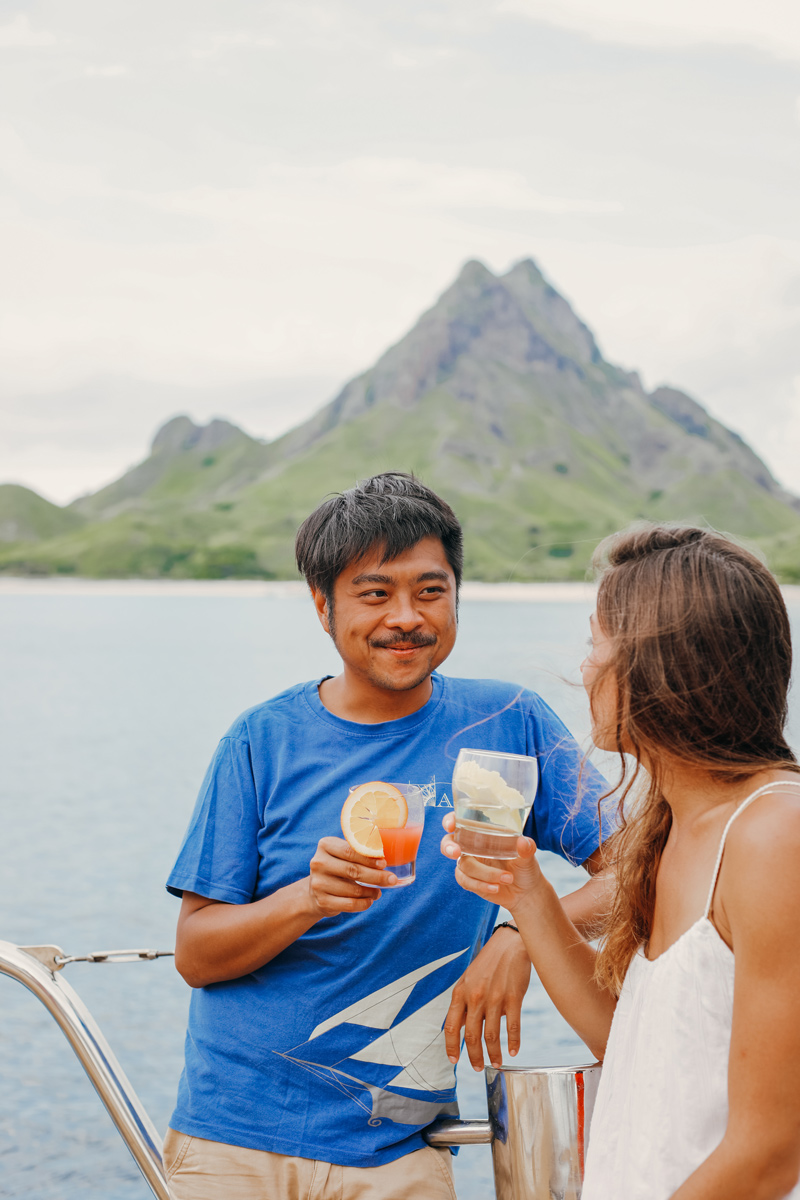 Selamat sore!
Selamat malam!
Selamat tidur!
Kamus bahasa Indonesia
Tidur nyenyak?
Siap untuk menyelam?
Cuci masker.
Pasta gigi
Jangan lupa kameranya!
Ayo, mari kita menyalam!
Buka tangki!
Pakai sepatu bebeknya!
Satu, dua, tiga, ayo!
Banyak ikan
Hiu besar
Lumba lumba!
Ikan paus!
Kura kura!
Air jernih!
Bagus sekali!
Luar biasa
Airnya hangat
Menyelam lagi!
Arus kuat
Santai
Nafas
Menikmati
Astaga!
Makanan enak
Selamat makan!
Aduh pedas!
Minuman dingin
Astaga!
Matahari panas
Istirahat dulu.
Siapa yang bilang begitu?
Ini kopi impianku.
Ayo buka layar!
Kue manis
Selamat minum!
Bir sangat dingin
Matahari terbit
Mari kita goyang goyang!