Do you wake up excited like a kid on Christmas morning before a dive trip but also have this tinge of fear you will forget something? Nothing should ruin that day. There is nothing in the world to worry about, you're leaving for the holiday of a lifetime and all you have left to do is pack… Wait! Pack? If you're anything like the most part of the population, you waited until the last minute again and you're almost sure you will forget something. So we thought we would help by compiling a new checklist of what you should bring on a dive trip.
1) TRAVEL DOCUMENTS
It seems very logical but there is always that possibility you could forget something that important. So do remember to bring your passport, drivers license as a back-up (or if you plan to rent a vehicle, then international drivers license might be in order) and required visa (or money in an accepted currency to pay for a visa-on-arrival). We recommend keeping a copy of your passport in a different location and making sure you have over six months validity remaining.
Additionally, a screenshot or printed airplane ticket is sometimes required by some airports in order to walk inside the terminal building. This is actually the case in Indonesia so make sure you are ready for your return.
As you're going diving, you will also need your certification card, eventually your logbook and your travel/diving insurance card. If you haven't been diving in a while, a refresher course could be in order, either before your travels or booked at the destination.
2) MONEY
Always bring your debit and credit cards even if you're planning to use only one of them. You never know if it might be needed after all. Having cash in the currency of your destination with you helps if it can be preordered with your bank. If not, American dollar bills in pristine condition work in most places.
Changing or withdrawing money at the airport is always an option but can end up being quite costly. Therefore, it is often best to only carry as much as needed to get you to the next spot where you should find better exchange rates. Bali's international airport has ATMs available if you'd rather withdraw the country's currency on arrival.
3) ELECTRONICS
It's great to have your camera (with or without underwater case) or GoPro, computer/tablet, headphones and all appropriate chargers for them but they will be useless if you don't have an adaptor. Check prior to your trip which plug is in use at your destination or buy a last minute adaptor at the airport. Good news for Europeans, Indonesians use the same plug! A USB memory stick is also often useful to exchange pictures with your travel buddies, especially if you are not bringing a laptop.
4) PROTECTION
At all times, but especially if you're coming from a snowy winter, you will need protection from the sun. Bring sunscreen from home, as it is more expensive in Indonesia, sunglasses and a hat. We would recommend looking for "reef friendly" sunscreens in your country as the regular ones contain harmful chemicals that slowly kills the beautiful reefs we all love. We also have more disease carrying mosquitoes around these parts so mosquito repellent is a must and a mosquito net can be helpful as well depending on your travel plans. Your Adelaar cruise is normally mosquito free while onboard.
5) DIVE GEAR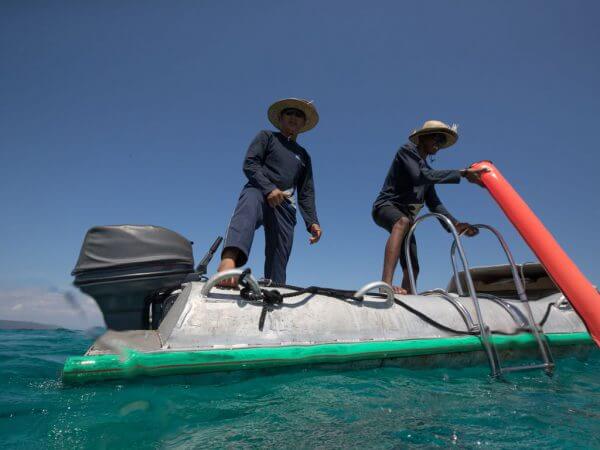 If you have your own dive gear, best not to leave it behind. BCD, regulator, mask, computer, fins and wetsuit are essentials to dive of course. Remember that some countries do not distribute some brands and it is wise to bring spares such as an extra computer battery or your preferred type of mouthpiece for example.
If you're renting, it may also be a good idea to have some of your own equipment, mask and computer being the easiest to pack and most useful. Although the Adelaar can provide you one free of charge on top on the Nautilus radio, we also recommend bringing your own surface marker buoy (or "safety sausage") for extra safety, particularly when diving in locations known for strong currents, such as Komodo and Alor.
6) TRAVEL GEAR
Throughout your trip, you will need many different things but you don't always want to carry everything around so bring a smaller day bag or backpack. If it's waterproof, it's even better!
Hiding your passport and money in a travel belt is safer as you would feel anyone trying to pickpocket you. Bali is generally safe but "better safe than sorry".
For a luscious sleep on the plane over, you can eventually bring a travel pillow.
If there is a new resort being built next door to yours or any noisy activity, you will be glad you did pack those earplugs or saved the ones the airline gives you!
A small first aid kit is an absolute must. Although most medications are available in Asia and sold over the counter, some items can be difficult to find. Therefore, remember to bring enough prescription medication to last for the duration of your trip. For diving, we recommend waterproof tape/plasters if, unluckily, you had a small cut or else to protect on your dives. As prevention, a pair of unloved socks will save you from blisters from your fins!
A soap won't leak in your bag and ensure you smell nice throughout your trip!
Finally, although most hotels and Adelaar of course provide them, having a small quick drying towel in your bag doesn't take much space and can come in handy.
7) APPROPRIATE CLOTHING
Besides the fact you will obviously need swimwear, you need to consider a few other things. Depending on the activities you are planning, you may need hiking gear to name only one. Please also remember that Asian countries have very different customs and, even if some locations seem progressive, it is always appreciated from the locals when tourists dress in a conservative and respectful manner. Being shirtless for a man or wearing cleavage for a woman can hurt their sensitivity more than they will let show. Dress as you like but be prepared with a sarong or shirt to cover up in front of locals in small villages if necessary.
8) TASTEBUDS SWEETNESS
Bali is a food paradise and we are lucky to have wonderful meals prepared onboard. However, it can be a good idea to bring some things from home you may miss such as your favorite tea or candy (very good to make new sweet-toothed friends). We have a selection of spirits and wines onboard but your preferred liquor may not be for sale in Indonesia, or outrageously priced in the shops, so this is also an item people chose to bring. Be careful as only one liter is tolerated per person by customs and they would confiscate any extras. Anyhow, it is for sure an efficient icebreaker after a day's diving!
9) OTHER ESSENTIALS
Many small things can save your life on a trip.
A lifesaver is travel size duct tape, famous for fixing or buying you more time from any item possible, MacGyver said so himself!
If you want to impress the locals and make their day, buy yourself a small phrasebook and order a drink in the local language.
Also, it is easy to forget to carry extra batteries if you have any items that require them.
Last but not least, binoculars will make sure you spot those dolphins on the horizon better than anyone else on the boat…
10) GOOD SPIRITS
No, we don't mean alcohol, this has already been covered… We mean bring this excited childlike feeling and be a good buddy underwater and on the boat! After all, a diving trip is a bit like Christmas, maybe even better! Don't get us started about trips on Christmas!
Want to be even more prepared for this adventure? Discover 6 additional and really clever Liveaboard Life Hacks.