Our Cruise Directors present their favourite dive sites
When Adelaar's Web team asked us to come up with a list of our ten favourite dive sites in Indonesia for a blog article, we thought that it will be a piece of cake. However, as we started to brainstorm what should be on this list, drawing from our combined experience of over 15 years and thousands of dives in all corners of Indonesia, we realised that it was a more difficult task than we anticipated. Even after an initial preliminary scribble down of each other's 'must-be-on-the-list' sites we had way too many. For some regions alone we found over 10 spots not to be missed. What we also noticed is that albeit our individual lists were different, we actually agreed with the choices of the other.
Dive sites can be good for very different reasons. Therefore, it is difficult to compare and almost impossible to rank one site versus another. Is encountering a manta ray inherently better than watching two mandarin fish performing their mating dance? Does a school of barracudas beat a pristine reefscape? Is an adrenaline filled dive up in the split of the current with swirls of fish in all directions more rewarding for everybody than observing hairy frog fish, rhinopias and wunderpus on a sandy bottom in a sheltered bay? Dives are like the gourmet meals served on Adelaar. Is the medium rare, imported tenderloin steak in pepper sauce by definition superior to Wayan's chocolate soufflé? Does everyone prefer tom yam over beef rendang?
First dive site: Tatawa Kecil
For the same reasons it is tricky to make a list of the top ten dishes on board, it is hard to come up with a list of the top ten dive sites. However, it would be possible to write recipes of dishes (we cannot do that here, Wayan guards them jealously). But we are willing to present individual dive sites in a series of blog articles.
A worthy site to start this series with, comes straight from the heart of Komodo National Park. Let us present you Tatawa Kecil.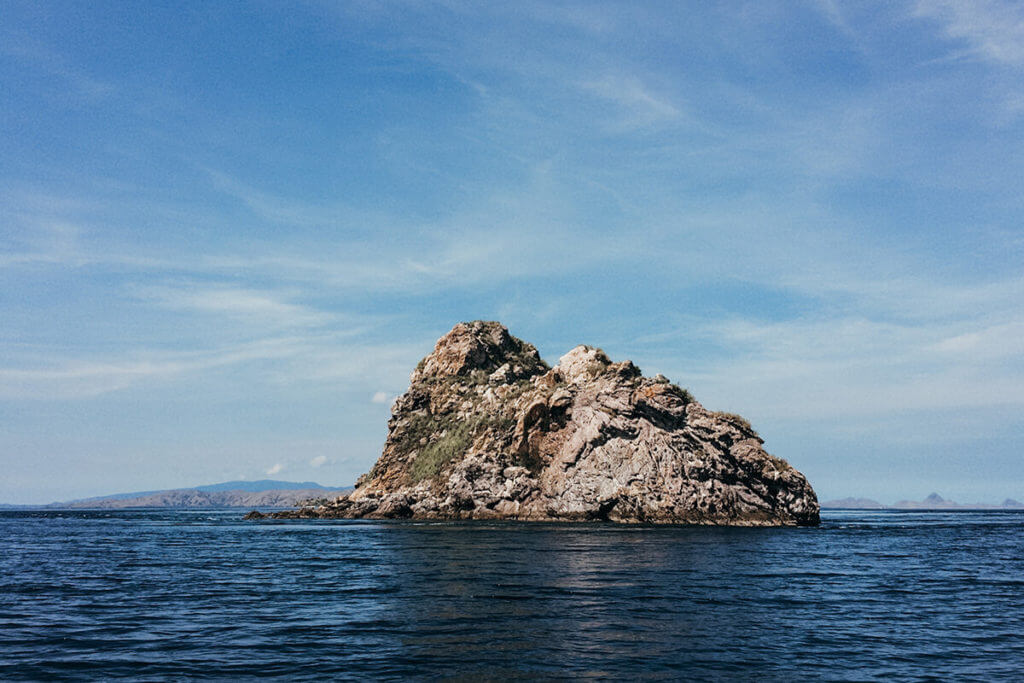 Tatawa is a funny name, literally. It means to laugh in Indonesian. What exactly it was that made them laugh, remains the secret of the people that named two islands in the Lintah Strait Tatawa Besar ('Big Laugh') and Tatawa Kecil ('Little Laugh'). We surely have cracked a laugh or two on dives, but more importantly, Tatawa Kecil never fails to put a smile on any diver's face.
Tatawa Kecil does not look like much at the surface. Rather a rock than an actual island, the part that sticks out of the water is almost barren – apart from a few spots covered in spinifex grass, nothing grows on it. What a contrast to the explosion of life that greets the diver on the submerged part of this site. The actual rock is almost invisible, so densely it is packed with sessile marine life:
Under the surface
Green and golden tubastrea corals compete for space with red gorgonians and purple, orange and pink dendronephthya soft corals – where there are no corals the space is occupied by blue rope sponges and salmon colored barrel sponges. This colourful seascape is the home of fish. A Lot of fish. As one veteran diver once put it perfectly and unforgettably, when he said (in broad Texan accent) after surfacing from a dive on Tatawa Kecil: 'You know, all those fish in the pictures in the fish guide books you have on board? Finally, I know where they got them from. They are here, every single one of them!'. Even taking the 'everything is bigger in Texas' – factor into account, this quote gives you an idea just how spectacular this site is.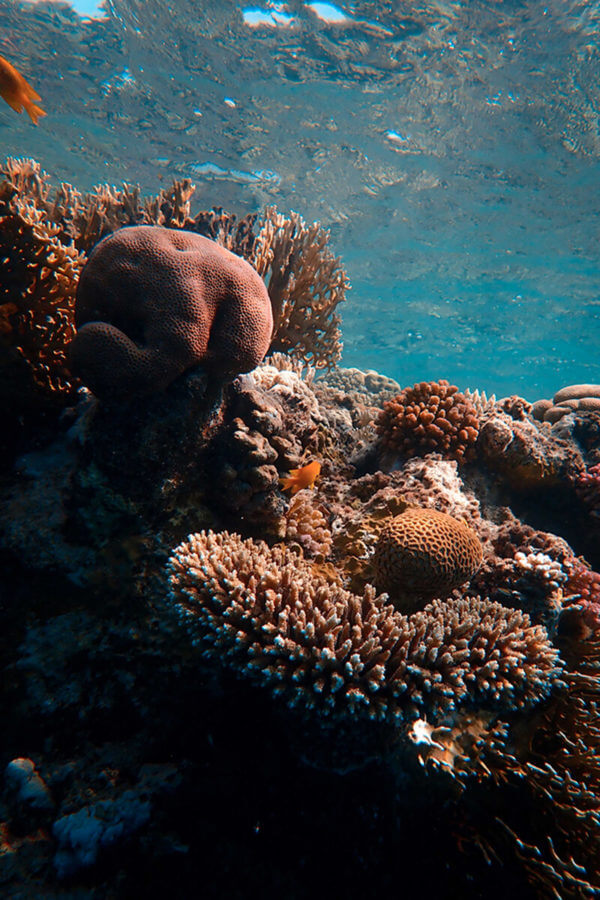 The reef
Rivalling with its profuse marine life – and actually facilitating the existence thereof – is the varied topography of the site. Diving the deeper part of the Northwestern quadrant one gets the feeling of swimming through streets of a modern underwater city – the bommies acting as skyscrapers with the spaces in between them as streets packed with the metropolis' fishy inhabitants making their ways through rush hour. Further south on the westside the underwater landscape is dominated by overhangs, small caverns and swim throughs – a good place to spot bamboo and white tip reef sharks.
The shallow plateau to the south is only covered with low growing coral and less dramatic from a topographical point of view – but the best place on the site to encounter manta rays that regularly hang around Tatawa Kecil. If the current prevents divers to spend the time on the plateau, the pristine coral garden in the north makes more than up for it: apart from being home to the probably largest and arguably most beautiful collection of acropora table corals around Komodo, it is also a perfect spot for photographers to get fish portraits: many cleaning stations in the shallows provide both perfect light and patient fish.
Tatawa Kecil lies in an area of the park known as 'Current City'. It is thanks to this current that Tatawa Kecil is so rich. Knowing the tides, judging the conditions, and planning the dive according to those is not always straightforward. That is where we as cruise directors and dive guides come into play to give you the most enjoyable experience of a truly amazing site.
Reto, Cruise Director SY Adelaar ⚓️
Tatawa Kecil can be visited and dived on the following itineraries: