It is with a lot of excitement and curiosity that I joined Adelaar on a cruise to Komodo National Park. Believe it or not, it was my very first time on a liveaboard. In fact, I had never stayed on a boat for more than a couple of hours before. And like every first time, my first time at sea ought to be memorable…
I went from surprise to surprise, lived uncountable unique moments, bust most of all, I experienced what I had been dreaming of my entire life : be an ocean explorer. Those ten days have been a real emotional roller coaster and most certainly are among the best ones of my existence.
Ready to join me on this surreal journey?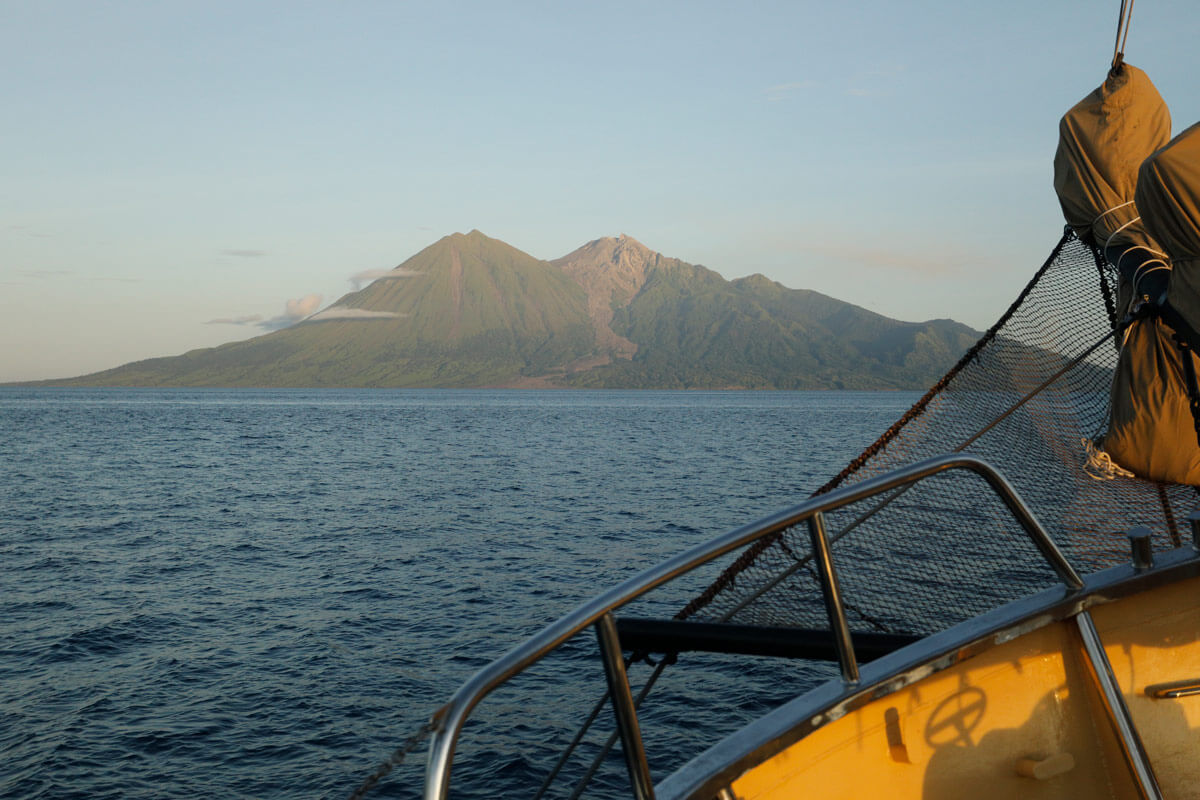 Anchor's lifted!
The first thing you need to know about me is that I am sea sick, yes. Why would I step foot on a boat, you wonder? Let's say I like to live dangerously. Nevertheless, it is on a tight stomach that I board Adelaar. The crew stands there, waiting for us. The warm welcome and the smiles we exchange instantaneously reassure me. I leave my bags in what is to become my home for the next ten days, the cozy & luxurious Cabin 3. All passengers gather on the deck to see the boat leaving the harbour. Briefings are about to become common, but the first boat briefing given by our cruise manager is quite special. We learn more about Adelaar's fascinating history and what awaits us aboard the sailboat. I can read the excitement on my companions' faces, impatient to sail the Indonesian archipelago.
During the first hours of our journey, I defeat the sea sickness. All right, I will admit the blue pill helped a little… If you are familiar to this medication, you know it works wonders. It works so well that I as soon as you swallow it, you instantaneously feel sleepy! So here I am, fighting not to fall asleep under the amused gaze of the other guests and…failing, miserably. When I wake up, the silhouettes of Bali's volcanoes are no more than dots in the horizon. Nothing to worry about though, I am soon back on my feet, more invigorated than ever. From mow on, I will only take the pill at night before I go to sleep.
Each of my daily actions has tuned into an adventure. Take my morning shower for example, not so steady anymore. Or the 50 steps I have to make to go from the deck to my cabin. They now require a high level concentration. So I try to mimic the crew's natural way of going around the ship and eventually, everything becomes quite natural for me too. The more time I spend on the historic vessel, the more I start to enjoy it and the less anxious I feel.
Jumping in
In fact, after a few days, this all boat-situation is becoming empowering. Maybe the blowing wind is what puts me in that « everything is possible » mood. But one thing is for sure, I am determined to get better in what we are all here for : scuba diving of course!
To be able to join the trip and enjoy it to the fullest, I wanted to pass my Open Water Certification before joining the cruise. And here I thought it would be easy and natural… I was quite far from being the Little Mermaid I thought I was! Diving requires patience, control and clearly, passion. Luckily, aboard Adelaar, I am surrounded by passionate and caring people next to whom I feel safe underwater. Because of that and as the days go by, I manage to overcome my fears and am able to enjoy the experience a little bit deeper every time. At the moment, I can only imagine how experienced divers must feel after years of scuba diving. Yet I truly hope that one day I will be one of the lucky ones who explored the seven seas.
A dive I will always remember is my first nigh dive at the wooden wreck of Komodo. I have to admit I feared this one, and rightly so, the first minutes are very stressful as the only thing I see going down are the torches of my dive buddies pointing towards the abyss of the sea. But as soon as we hit the depth of 12 meters and I sight the shipwreck, everything becomes fabulous. We spot a lot of interesting creatures as we swim our way through the wreck. You never know what is going to show at the end of your torche's light, and I find it pretty exciting.
So I get out of the water and expel the regulator out of my mouth, so impatient to share this experience with everyone. Turns out everybody was bored for 45 minutes, « looking at the computer, waiting for it to end » I quote. At first, I am disappointed that nobody shares my enthusiasm but then glad I could appreciate the dive. I guess that is the magic of trying something new, everything feels highlighted. Later on, I learned that my diving buddies had been diving on such amazing night dives before, that this one was ironically only part of the "good" ones.
Yet other things feels terrifying the first time you do them. Among those, one starts with « Hey, let's all jump from the ship » for example. So here I am standing on the net at the bow, my legs shaking and my heart beating. With a constant cheering of my mates, it takes chicken me about 10 minutes to finally be able to take the plunge. But what we all will remember from this story is that I did it!
After the first jump, everyone rushes to the roof to a greater challenge. I bail, promising myself I will do it by the end of the trip, I never did. I was actually planning to use this surrender as an excuse to be back (yeah sure).
Day 3, here we are, in Komodo National Park. The sun is shining and its rays reflect on an unbelievably turquoise water.
Heaven on earth
After a few days spent discovering the National Park, you think that you have seen everything and you tell yourself it doesn't get better than that. Yet, every day that goes by is even more extraordinary than the one before.
And the one we have ahead of us will exceed all my expectations. First things first, we need fuel for that jungle trek where we will cross paths with those giant lizards that made the park's reputation : the mythic Komodo dragons.
Getting back to that fuel now. Have you ever heard of Pippin's second breakfast? Well, Adelaar's chefs certainly have. Every day, the morning starts with a « small breakfast » followed by a « big breakfast » a couple hours later. Mine was a divine combination of pancakes, home-made yogurt with fruits, a delicious slice of banana bread and last but not least, scrambled eggs & bacon. I must add that everything I am served is gluten-free as I am coeliac. That is how amazingly tailored the service is!
In between these worthy of a king breakfasts, we go diving. And this one time holds a special place in my heart because half way through the dive, I see my very first turtle. Now you must know I have an unconditional love for turtles… Later in the day, we decide to go on a snorkeling discovery mission and we spot an eagle ray, elegantly swimming above the healthy corals.
We spend the rest of the sunny afternoon on a pristine Pink Beach, which is without a doubt the most beautiful one I have ever seen. The pink sand and the transparent sea merging together between this two green peaks make this scenery absolutely unique. As this wasn't good enough already, we are the only ones playing in the water, completely isolated from the rest of the world.
This beautiful day ends on top of Padar Island. The very first time I saw this view was through my computer screen and already my eyes were filled with tears. So I will let you imagine how I feel when I finally get to the top of the highest point. The view is gold, no picture will ever do it justice. When we head back to the boat, the sun is already down and we can see Adelaar, fully illuminated, in the middle of a calm bay. Tired after all these adventures I fall asleep quickly that night.
Starry eyed and light hearted
With a special complicity that bonds the passengers together after such wonderful moments, we are spending the last days on the most beautiful vessel at sea. With my accomplices, we will soon be gearing up for what is already our last underwater adventure. This dive site on the coast of Moyo island called Little Angle. It is, without a hesitation, the best one of the journey. As soon as I start deflating my BCD, I notice the visibility is unbelievably good. We can easily see all around us up to 50 meters. As we swim along side the big coral wall, dozens of schools of fish dance in the blue, the show is breathtaking.
Looking back at the group, I can see the happiness in their eyes. If you are a diver, you know it is not easy to communicate under water. Fortunately those moments exist when you don't need words or even signs to share something wonderful.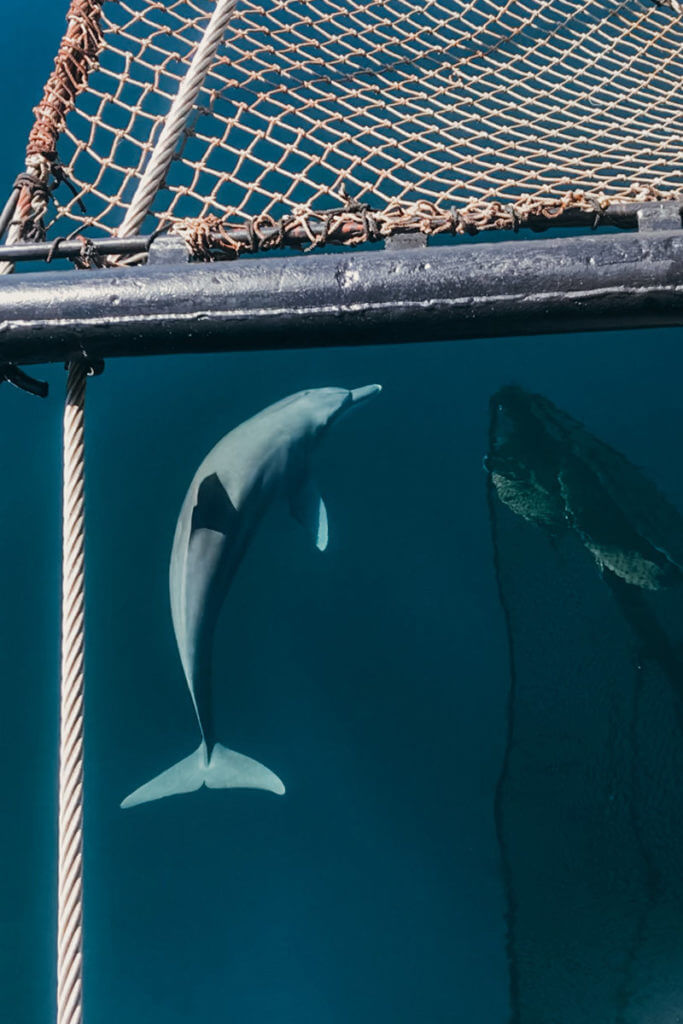 After a trip like this one, you would except nothing less than a spectacular goodbye. And again, the unbelievable happened on our way back home. I am enjoying the fresh air up on the deck, starring at the horizon, when I see something jumping out of the water. When I go back up to the bow (after shouting to everyone there might be a nice visit), the boat is surrounded by hundreds of dolphins. Wait… these are not only dolphins, pods of pilot whales also joined the party. We are all so thrilled we decide make a turn and jump into the water with them. We see those precious creatures playing effortlessly under us and hear them whistling. It is even more beautiful when you know that dolphins use sound and body postures to express emotions. The smiles won't leave our faces for the rest of the day.
For the last time, I lay in bed and close my eyes, lulled by the swell. Looking back at everything I have just been a part of, I realize we really have been blessed those last 10 days. I also realize the importance of noticing that every moment nature allows us to connect with her is a gift. A gift I will always remember to be grateful for.
So you come home, with that feeling in your chest that will stick for a few days and memories that will last a lifetime. You have been overwhelmed with energies and emotions that will fuel your heart for a long time. And you can't wait for the next adventure to feel it all again…
Morgane, professional learner