Diving Indonesia
Indonesia is one of the most beautiful diving destinations in the World. Exploring the archipelago by boat is the best way to get that exclusive feeling of adventure. Are you a passionate traveler and diver? You will certainly find your happiness comfortably cruising onboard our elegant Schooner while heading to the best surrounding diving spots.
With Adelaar, we propose a wide range of diving highlights including untouched soft coral formations, pristine hard coral gardens, big fish action in current, mellow critter hunting muck diving on black sand, steep walls with huge sea fans, soft corals and barrel sponges, wreck diving, gentle giant whale shark encounters, mesmerizing ballet of schooling hammerhead sharks and so much more. Which one of these adventures are you ready for?
Indonesia's diving playground
You can either let us design your very own private journey, or you can choose one of our existing itineraries. Let yourself wander on the map below or find inspiration in our destination's descriptions.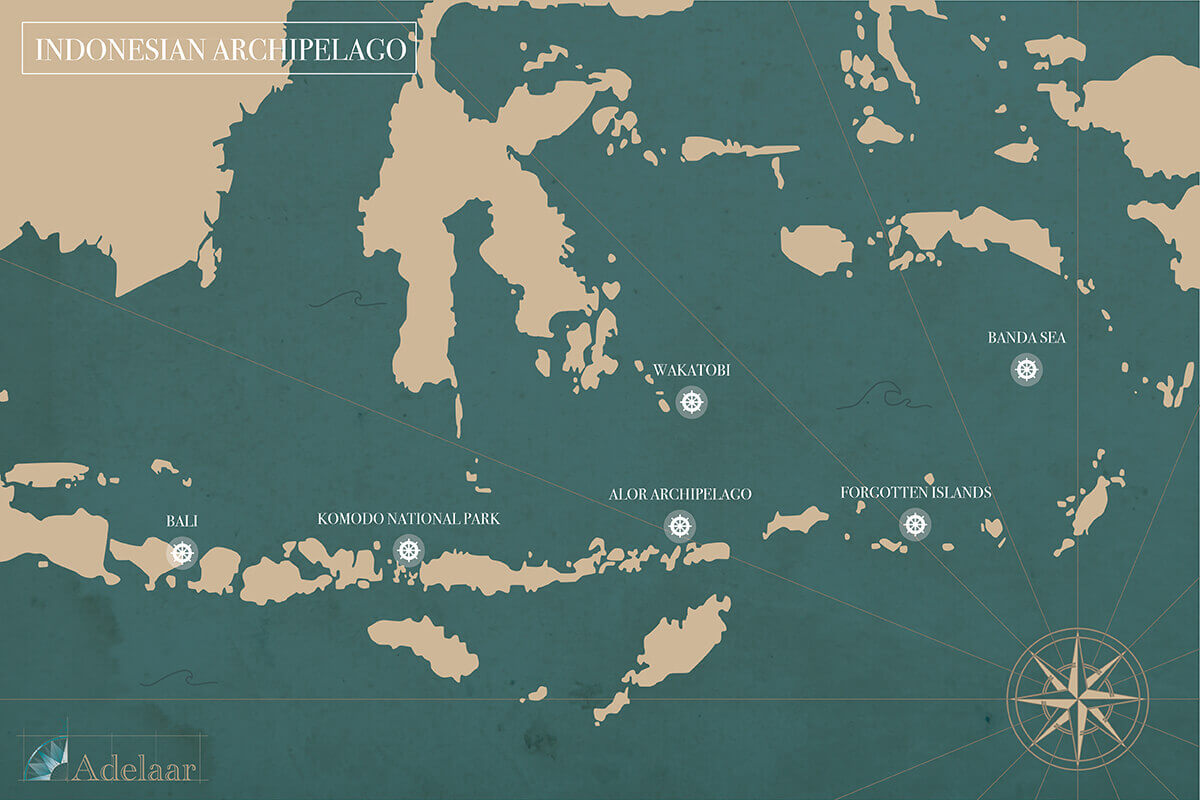 We cruise to many destinations between Bali, Moluccas, Sulawesi, East Nusa Tenggara, and the Banda Sea. Adelaar sails all year round and will take you to the country's top-notch dive sites of each area thanks to our experienced cruise directors. Combining living and diving in Indonesia for more than 20 years, Reto and Lorine have been exploring underwater realms all over the country. With their incredible knowledge of life under the surface and their ability to make you feel safe during your diving expeditions, they truly are the best underwater companions one could wish for.
Designed for all divers
Are you a bunch of hardcore divers who expect to jump in the water 4 times a day? Your dream is to see hammerhead sharks and mandarin fish on the same trip? Maybe you are a club of underwater photographers who want to spend a week in a secluded bay taking shots of one unique species of rhinopias? Or do you prefer a quiet underwater promenade with huge centenary barrel sponges, barely any current and great visibility?

We customize our itineraries and diving programs according to the wishes of our diving guests. Let us know what your expectations are, and we will make the best happen for you. Both newbies and experts will be well taken care of by our dive guides within small diving groups.
Fill out our online form to get a quotation for your dream diving trip: go to form.
An intimate vessel
Built in 1902, Adelaar is the most elegant Schooner you will find in the Indonesian diving boats fleet. Its claret set of sails and its classic wooden interior will take you in a timeless journey with exquisite style.

Adelaar's 8-passenger capacity allows you to travel comfortably with your close friends or family members. An exclusive, private vessel is the ideal choice for a safe travel after the difficult times we've been through worldwide. The ship's vaccinated crew follows the highest health and hygiene standards on the everyday life operations.
Ready to weigh anchor? Check out our schedule and rates for private charter bookings: schedule & rates.