If someone had told me I would enjoy a liveaboard experience aboard Adelaar in Indonesia, I wouldn't have believed it! Me, in the middle of the ocean for 11 days? Diving? It would have sounded unreal just a few months ago.
My name is Emma, I come from France and I've always lived near the mountains. I grew up in a village near the ski slopes at the border with Switzerland. My family has never been into aquatic activities and, even though like any teenager I liked to go against my parent's will, the water wasn't my element. The only time I was confronted with water, was at primary school during the mandatory swimming lessons. To be honest, I wasn't good, I wasn't comfortable, I felt like a bull in a China shop.
The idea of Scuba Diving was my worst nightmare. I couldn't quite figure out why people would try to breathe below the surface while, my entire life, I have been taught to hold my breath in contact with water. The last time I had to jump into a pool, I hit the bottom, my foot cramped, and I swallowed water. That was ten years ago. Well, you get the picture, I never thought in my life I would experience anything related to the marine world.
Fate intended otherwise.
Three months ago, I decided to do an internship far away from home, to get out of my comfort zone and discover a new culture. I ended up in Indonesia, working for Adelaar Liveaboard as a marketing assistant trainee.
Mathilde, my manager and referent during the internship, told me that part of the training program would be to go onboard and experience the products we intend to sell: 11 days diving cruises on the Indonesian archipelago. That was the extraordinary chance for me to do something I would never do in my life on a free will. I could finally go beyond anything I knew before, and discover how it's like to scuba dive in the Komodo National Park. Adelaar offers many activities outside of Scuba Diving: snorkeling, kayaking, and also a few land excursions. That made me feel a little more confident, in case I wouldn't be able to dive so much, there was plenty of other things for me to explore!
First things first.
As I never dived before, I had to learn the basics before jumping aboard Adelaar. I was sent to a place located in North-East of Bali, a dive center near Tulamben Wreck. The staff welcomed me for a 3 days PADI Open Water course.
Before my very first dive, I had no clue what to expect. I did what the instructor said. And, surprisingly enough, everything went really well. Most importantly, breathing out of the regulator reassured me. It was mentally less scary than just swimming at the surface with no gear and the risk of a wave taking me in a roller coaster. As the days and dives went by, I gained confidence, and in a very academic way (I was lucky to be good at school), I managed to become a certified diver! I was so excited to finally start the journey aboard Adelaar, this was the only thing I could think about in the following days.
As the excitement built up, so did the anxiety. I wasn't sure how I would react for such a long time at sea, but still, I came to Asia to overcome some fears, so let's roll!
First day of my journey aboard Adelaar.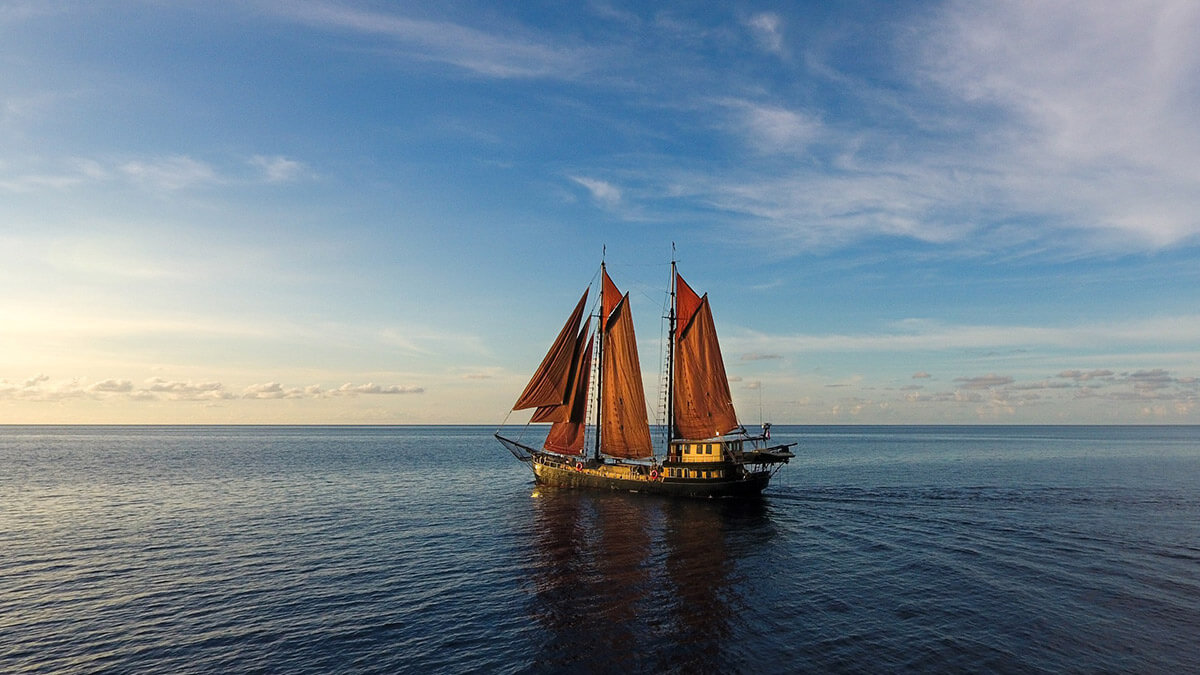 Cathy Finch Photography
WOW. That's my first thought when I first set foot on the boat. It was like joining a pirate ship that's about to explore the world. The boat was so beautiful and authentic! And my cabin, beautifully furnished with the wood & marble, was absolutely gorgeous.
Onboard, I was accompanied by five other guests. Mathilde, my manager, Morgane, another trainee, Cathy, a passionate travel writer from Australia, and Ben and Janice, the owners of the ship. We made a nice multi-generation and international team, and everyone onboard had so many experiences to share, I couldn't dream of a better crowd!
Everything was new. It was my first time on a boat, not to say my first time on a liveaboard, and my first time in Komodo National Park. A few minutes out of the harbor after we lifted the anchor, the boat started moving a lot. It was a strange impression, and so many new habits to learn. "Lesson number one", Ben said, "On a ship, you always are holding onto something with at least one hand!". That was after I tripped over while the ship was gently moving from left to right. Luckily, I never got seasick and the next days the boat didn't move as much.
Scuba diving, a learning process.
The Komodo National Park is famous for one reason: its marine life is captivating.
Even though I'm not a water person, I always loved watching documentaries about animals and nature. When I was younger, my parents took me to many zoos and aquariums. My childhood dream was to become a zoologist. But for the first time, I could really see the animals in a natural environment. Free. And that just changed my perspectives forever.
During the first days, I thought scuba diving was about swimming non-stop, kicking to move forward, constantly. But that's not how you spot animals! You have to take the time to observe your surroundings. It wasn't that easy to stay still and keep a neutral buoyancy. You've got to understand how everything works: your body, your gear, and the ocean. Not an easy task for a mountain girl!
Since the mask limits your field of vision, you have to turn your head to see what's around you. You also have to look up and down to assess your depths and potential dangers! I have to admit that in the beginning, it was tough, and not much diving time was spent spotting animals as I was trying to avoid running into other divers. However, once I finally managed to find my rhythm, I started to lookout… And that was the first day of the rest of my life!
Unforgettable memories of this amazing trip.
I've been so lucky on this trip, as the adventure has been full of surprises.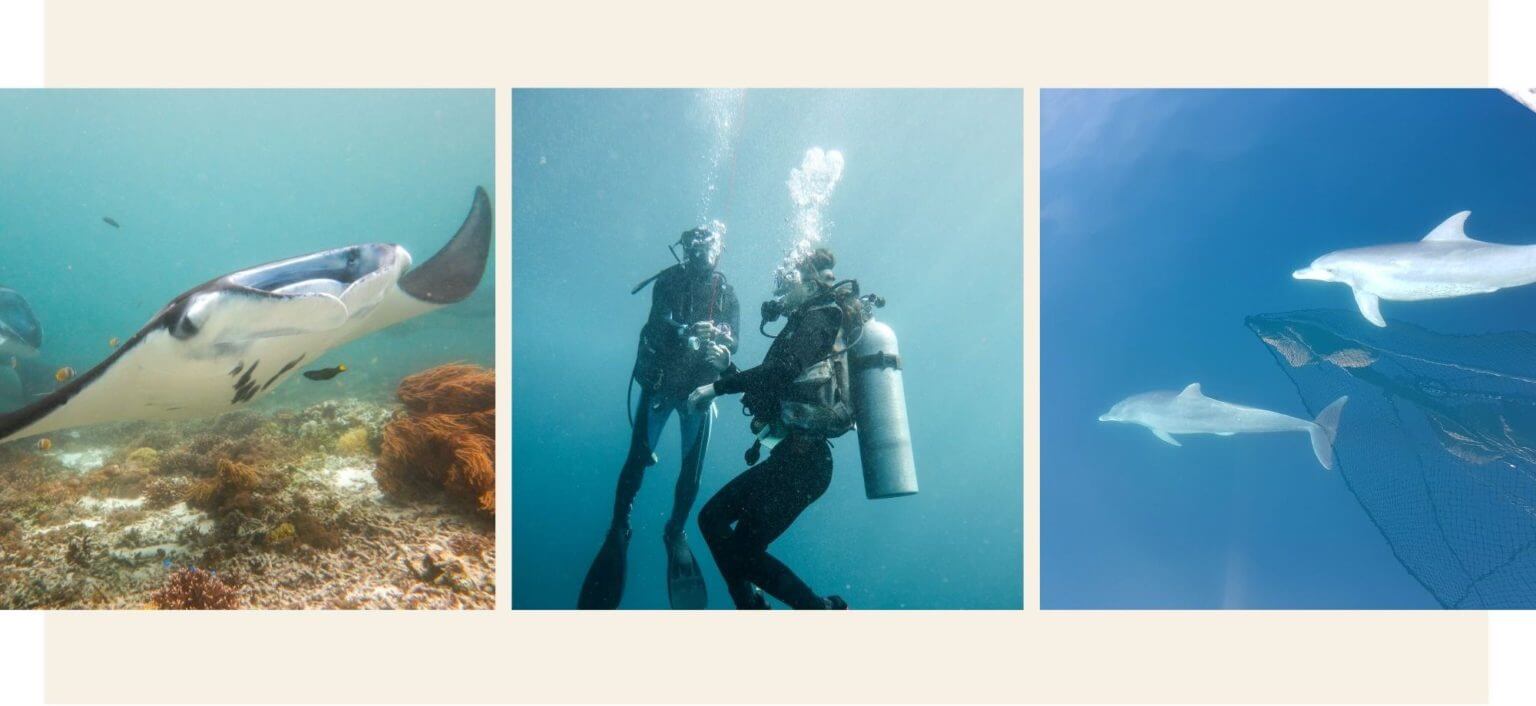 Cathy Finch Photography
We encountered Manta Rays, TWICE!
It happened while I was observing a cute nudibranch. I turned my head over to see if the group didn't get too far away when I saw them. There were ten HUGE Mantas, making circles around us. They're not hard to spot, as long as you keep an eye out in the blue from time to time.
They were so graceful. I knew the mantas were big, but I didn't expect to feel so small compared to them. I could see these huge animals moving straight towards me and changing direction just before they got too close. It was impressive and I was stunned. We could observe every detail of their anatomy. One of them was pregnant! I was so busy watching them that I ignored everything else. They spent more than 30 minutes circling us.
Later on, I learned that we were on a "cleaning station", and I was taught everything there was about Manta rays. From their behavior patterns to how to identify a male from a female. This was all fascinating, but in my head, I was still dancing with them underwater. We were lucky enough to see a smaller group of mantas on the next dive, during our safety stop in the shallows, could that be the same individuals, that followed us a few miles away? I couldn't tell…
Dolphins. Not once, not twice, THREE times!!
Would you believe me if I told you that our first encounter with dolphins took place on the same day as the one with the mantas? Well, it did! We were having breakfast after the first dive, on the upper deck of the ship. Everyone was bragging about that "Manta dive" as we called it, when all of a sudden, a dolphin came out swimming near the moving boat, then a second one, and more dolphins! They were gathering right at the bow of the boat. It was the first time I ever saw them in their natural habitat and it was awesome!
But that wasn't the best part! Later in the trip, a pod of about a hundred dolphins surfaced while we were crossing to get from East Sangeang volcano to the West. There were so many of them that day, we didn't know where to look. Mathilde popped the idea to stop the ship and jump in with them in the ear of Ben, a few seconds later, out of the blue, we were there, swimming in the middle of the ocean! We observed them from a distance because they were a bit shy. I can still hear their whistling underwater. We stayed long enough for me to get a good sunburn.
Stunning landscapes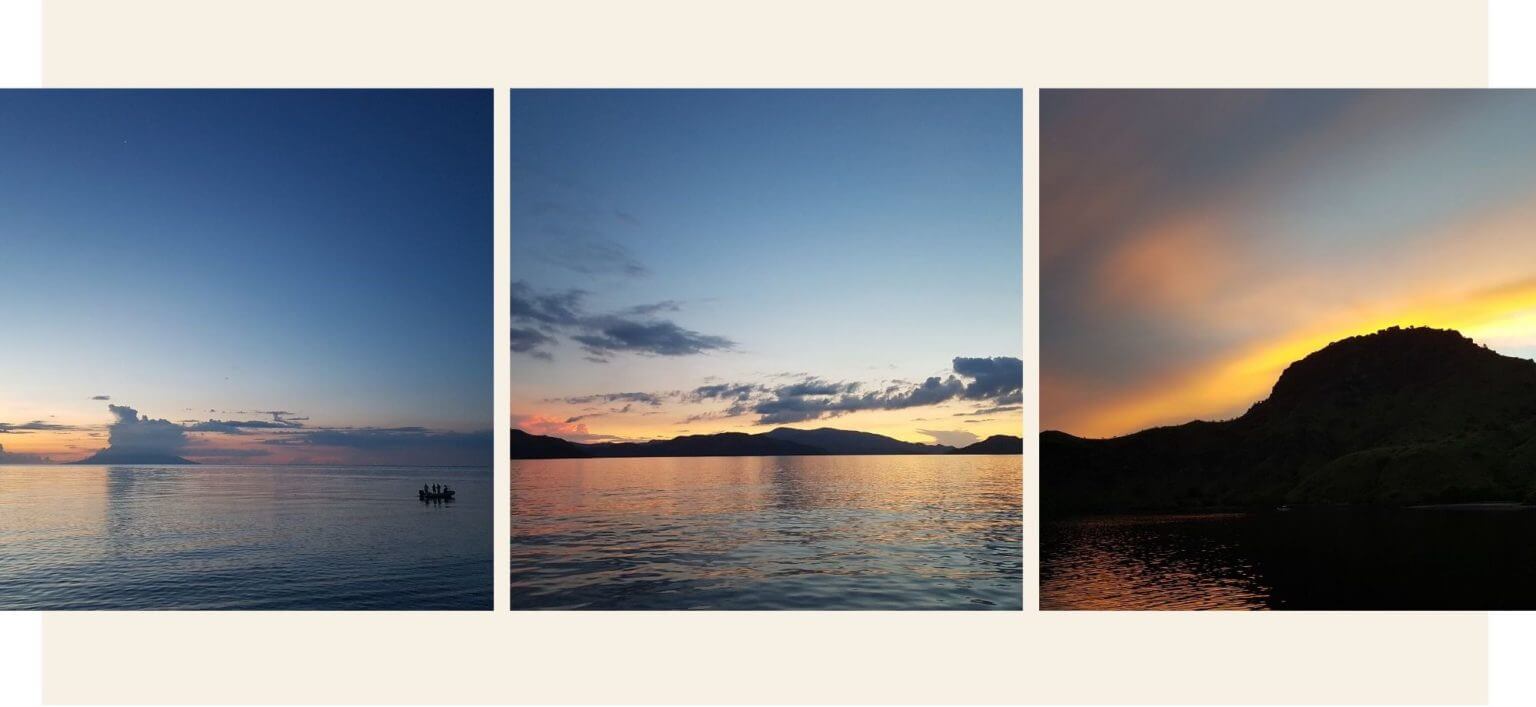 The pictures I took during the trip can speak for themselves. I used to get up very early in the morning to admire these sunrises. These were unique moments under a sky like I have never seen on land. Yet, I've seen beautiful places in my (young) life. But those colors in the sky were the most amazing I've ever seen. Sometimes, the entire ocean was pink. And that creates lifelong memories.
Adelaar's crew.
What would Adelaar be without its crew?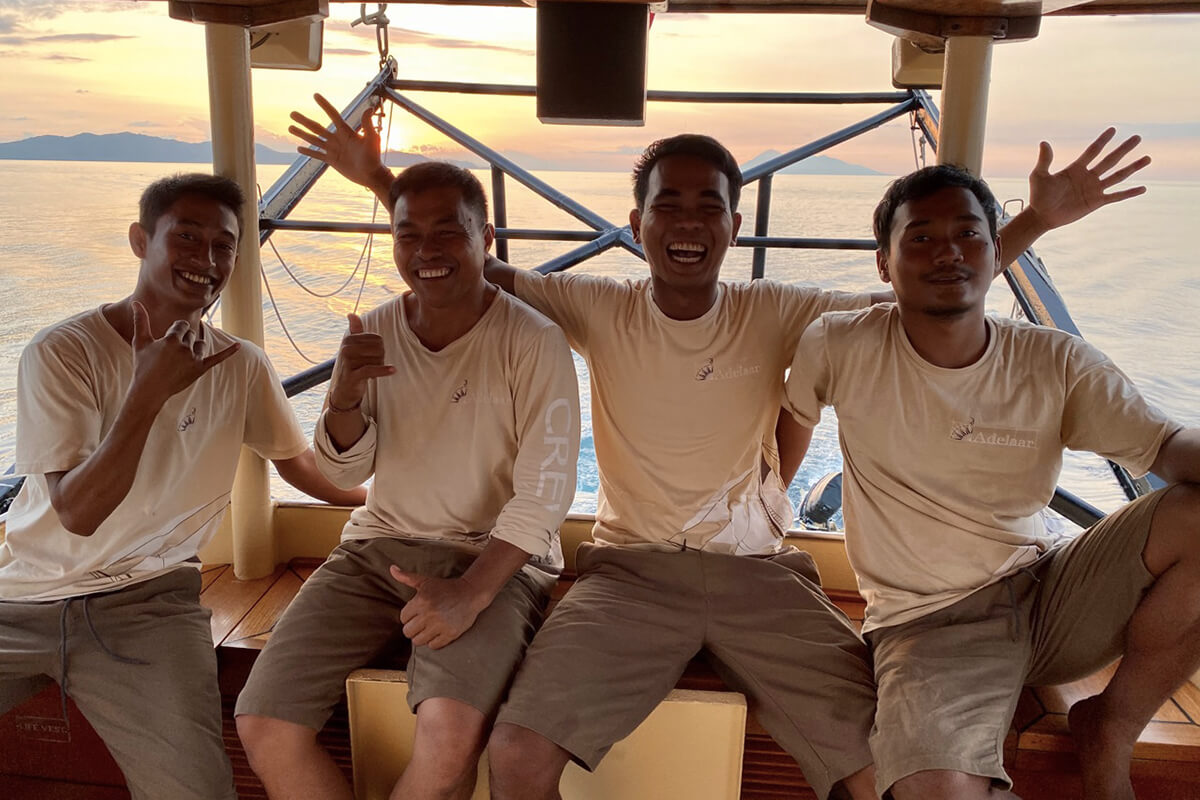 Cathy Finch Photography
Indonesian people are inspiring. The crew was no exception. They were extremely welcoming from the very beginning of the trip. At first, they were a little shy, but after some time, they started to joke with me and they were very curious, asking all kinds of questions to get to know me. I saw in them a real passion for their job through their heartfelt smiles. One evening, we played a card game together and had a great time.
Their capacity for discretion was surprising. We were a total of 6 guests and 10 crew members on board. However, at times, I had the impression that we were alone on the boat. And yet they were never far away and always there when needed.
Dining at sea.
How can I talk about my liveaboard experience on Adelaar's without mentioning the cuisine?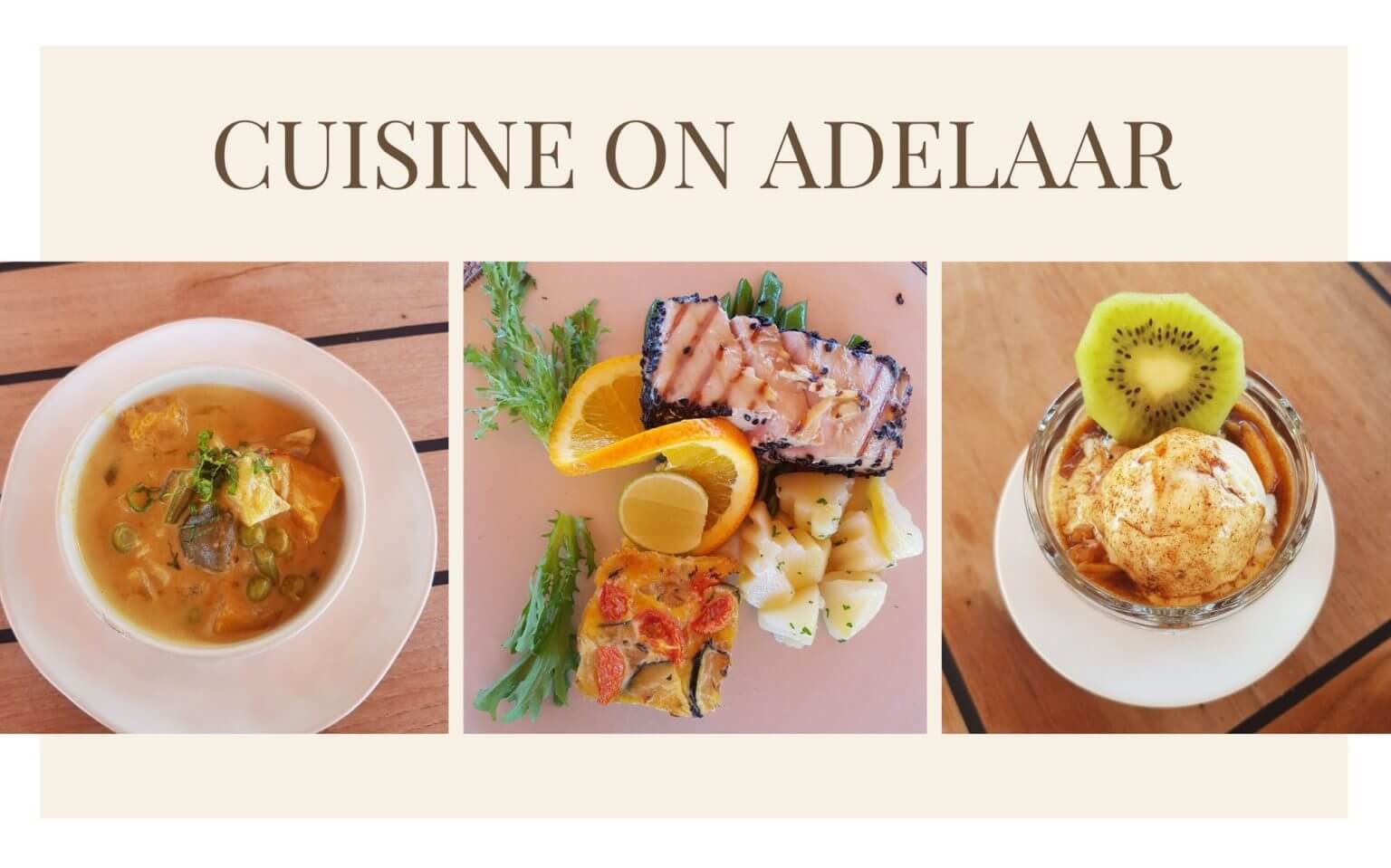 Before the trip, I knew that 2 cooks were on board. But I didn't expect the food to be that delicious. They always managed to surprise with beautiful and tasty recipes. Every day, I was excited for the next meal to come. Two breakfasts, one lunch, one snack, and one dinner, I guarantee you won't starve!
What I will remember from my trip aboard Adelaar.
I will always keep in mind this extraordinary liveaboard experience to Komodo National Park. This was the possibility to share with people from completely different backgrounds. I had very interesting conversations, that don't often happen when you are on a ship with more than 8 guests.
I want to thank you all ❤
To Ben and Janice for giving me the chance to make this trip. Special thanks to Ben who, on several occasions, shared his passion for science with us at dinner under the stars. It was very inspiring and made me want to learn more about it. I will soon be buying a new book about science and the universe.
Thanks to Tino, the cruise manager, who always knew how to take us to the best dive sites throughout the trip. As I wasn't very experienced, he always helped me to spot many species underwater. From octopus to shark and nudibranchs, there was always something to observe!
I managed to get out of my comfort zone by doing unusual activities underwater. It was thanks to Mathilde's support and advice that I was able to improve my diving skills. And thanks to her encouragement, that I managed to accomplish so many things on the ship!
Thanks to the crew, without whom nothing would have been possible! The food and the quality of the service were truly irreproachable.
Finally, I would like to say a big thank you to Cathy, our favorite journalist. She revealed energy in her work that you rarely see in someone. Always smiling and laughing, she was our ray of sunshine!
Emma, nature addict and travel enthusiast.